A Good Day to All!
As December advances and people bundle up and look towards holidays with family, our thoughts turn to reaching out and reconnecting. The cold dark days of December are perfect for catching up on our hellos and our thoughts of gratitude and good will. What a better time to send you all a warm and friendly hello!
It has been a busy year of real estate in all areas in and around Montreal and as a result, I have had the lovely opportunity to relive a bit of my location manager past by scouting out new homes for people everywhere from Laval to Chateauguay, passing through the Plateau, Griffintown, NDG and downtown. We live in a unique and wonderful province; and as some recent international clients remarked, ''you Montrealers have no idea how rare your community is and how lucky you are to live here''. It is true, we have a lot to be grateful for.
Not everyone travels around the 514 and 450 as much as I do, and I would like to share some of my faves and discoveries with you, encourage you to get out and see new things, meet new people and learn what the buzz is all about.  In this first edition of my quarterly newsletter, I am going to tell you a bit about NDG, an area that has been attracting newcomers and hopping with transactions for quite a while.  Lots to do and see.
OUR DETOUR : Notre-Dame-de Grâce
Notre-Dame-de-Grace, known to locals as NDG, was founded as a village in 1850 in the parish of Notre-Dame-de-Toutes-Grâces and was annexed to Montreal in 1910 in order to finance the sewage system. In 2002 it was partnered with the borough of Côte des Neiges (to the north and east) and together the population now reaches approximately 160,000.
Young, old, hip and traditional, anglo, franco and everything in between, NDG is a warm and welcoming, family-oriented community of tree-lined streets, beautiful parks and excellent schools.
Tucked between Westmount and Montreal West, NDG is serviced by the Vendome and Villa Maria métro stations. Trendy streets like Monkland are where you will find hot spots like Lucille's Oyster Bar and delicious Italian at Amerigo but take the time to discover the popular local gems lining other commercial streets... Two of my Sherbrooke St. faves are tiny British pub Honey Martin and  the spicy Cajun classic La Louisiane.
If you are looking to purchase and want to max your return on investment, dive into the Monkland periphery west of Cavendish and walking distance to the wonderful NDG Sports Complex. Or you can check out  the 1950s post war cottages above Somerled Ave, where your renos will bring you good bang for your buck. I recently helped a young family settle into this beautifully renovated home on Westmore; sellers got in the mid sixes for a property with a pre-reno evaluation in the 300s.
If you do find yourself on Somerled, don't miss your chance to pop into another of my faves, the traditional Italian bakery Molisana which, in my opinion, makes the best Easter Zepole in Montreal!
A SNAPSHOT
And speaking of clients, after a year-long hunt, many  multiple offers situations and lots of patience and faith, my lovely clients-turned-friends Erin and Matt have now settled  their family into their new home; a spacious 2 storey condo on Harvard near Sherbrooke. They were happy to share with us a bit of their story.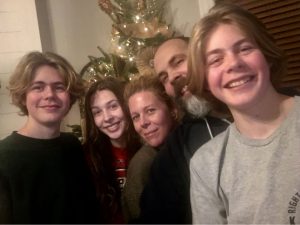 Why did you decide to move from the South Shore to NDG?
« The biggest reason is that with our boys in Westmount schools, our daughter starting a career in a downtown business and Matt working over near the Jacques Cartier Bridge, 80%  of our family were  commuting to and from Montreal  on a daily basis and the time loss was  getting overwhelming. We chose NDG because it is central, lively and very family-oriented.  NDG fits what we wanted in a community,  we have great shops and cafés within walking distance and life is easygoing and very relaxed. »
Did you have a hard time finding a home?
« We had some very specific requirements. With 5 in the family, we required a certain amount of space and a room division that met the needs of our family.  Catherine was very patient, she accompanied us through the whole, long process until we found what we were looking for.  Now we are busy renovating, but we still find time to head out to the cultural activities NDG offers, like the NDG Arts Week. We went several times to take a look at what the local NDG artists are up to.
We had dinner at the Star of India a few nights ago which is always good. The Garrison House Pub between Grey and Claremont is really nice. It's not really a pub in the traditional sense. It's more of a cocktail bar with fancy food. The staff are really friendly. Notre Bœuf de Grâce around the corner from our place is always full too. They provide really good burgers. Pasta Casareccia makes good fresh pasta, we  buy their pasta and sauces to make at home. We love life in NDG! »
A little extra:
Another well-known event in NDG is Porchfest.  During this friendly weekend festival in May, you can saunter from one street to another with only your ears as your guide. Local bands and musicians, encamped on their front porches and balconies, will serenade and celebrate as neighbours dance in the streets. Porchfest is the perfect occasion to meet and chat with locals and really discover the heart and soul of NDG.
Click here to see a clip on Youtube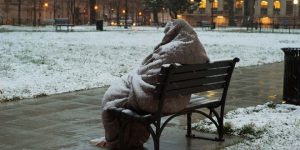 GOING ON NOW
Catherine's Annual Clothing Drive
Last year we collected close to 100 bags of  boots, coats, mitts and other clothes for organizations such as Share the Warmth, Native Women's Shelter, and Dans la Rue. I know you have it in your hearts to do it again. Volunteers are ready to come pick up your no-longer-needed and get it to people who will put it to good use. Please click here for more information, or simply give me a call, we will take care of everything else!
And on that note, I wish you all a wonderful end to 2018 and a very happy holiday season. As always, I am delighted to help with your real estate needs, answer questions and  provide some guidance  as you plan out your next moves.  Please feel free to contact me, no question is too small to ask.